1D Cradle Wireless Barcode Scanner, Charge Station Wireless Transmitting Distance (without Barrier) 300 - 400 Meters
SGT-8300L

Features :
1, Can be directly used for collector
2,Memory :4M, can expand 8M
3, Code number statistical functions
4, Mandatory reset
5, Decoding type : support RS232, PS2 keyboard, USB interface
6, Longer distance,more powerful.
7,Flicker/auto/continuous scanning mode are optional, is more stable than other uppliers
8,The scanner supports FEDEX/UPS/DHL/TNT tracking number
9,32 bit new digit laser decoding technology with faster scanning speed
10,Add Prefix and Suffix feature, you can add characters in front and after each scan
11,Function key F1 to F12, HOME and TAB
12,Long communication distance : Empty place can reach 1200meters, indoor for 300meters,
Six floors of building barrier-free communication , Built-in antenna, reliable communications ,
the scope of work support one to one , many to one , one base can support multiple scanners
(up to 255units ),6 floors communication barrier-free, 300meters of indoor and outdoor 1200meters,
decision garbled software design, re-code ,ultra-distance tips, gunID display :1500MA high-capacity lithium battery, charging time 10 hours, beyond the receiver from the light and buzzer
prompts;humane touch with popular brands design ;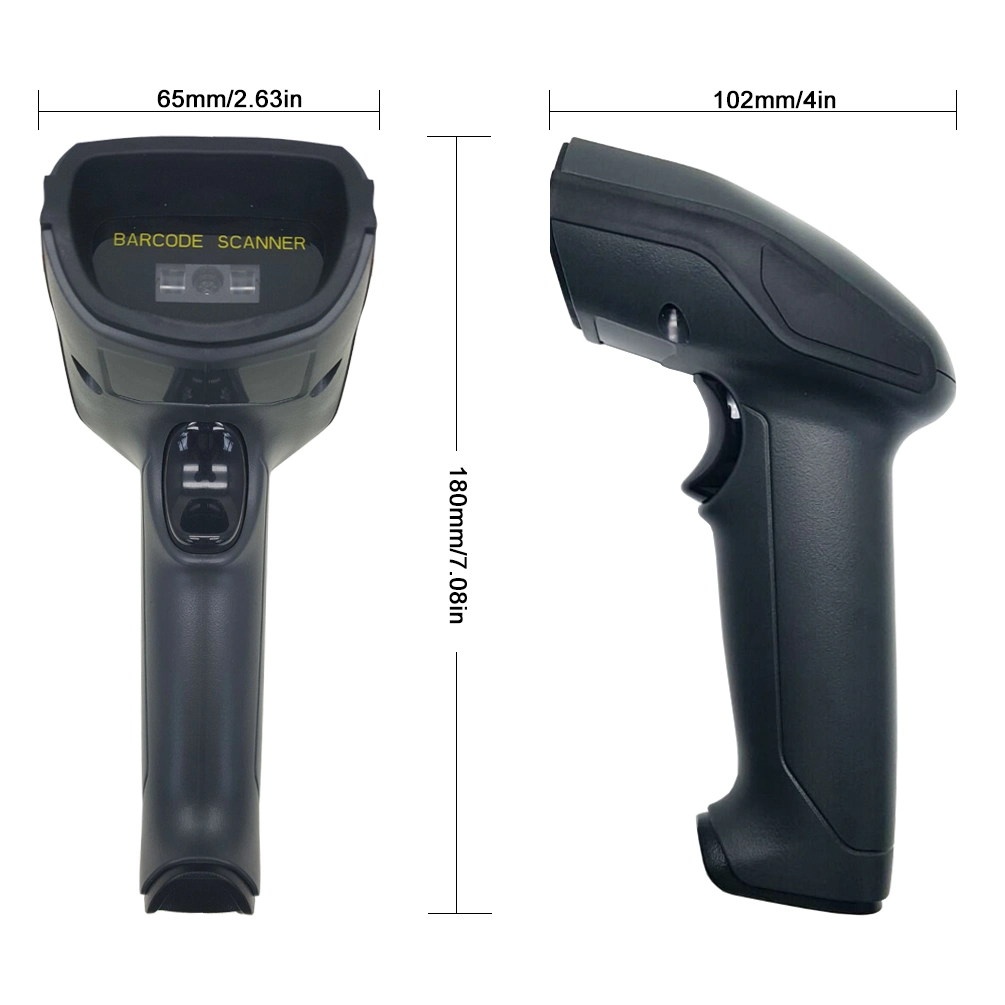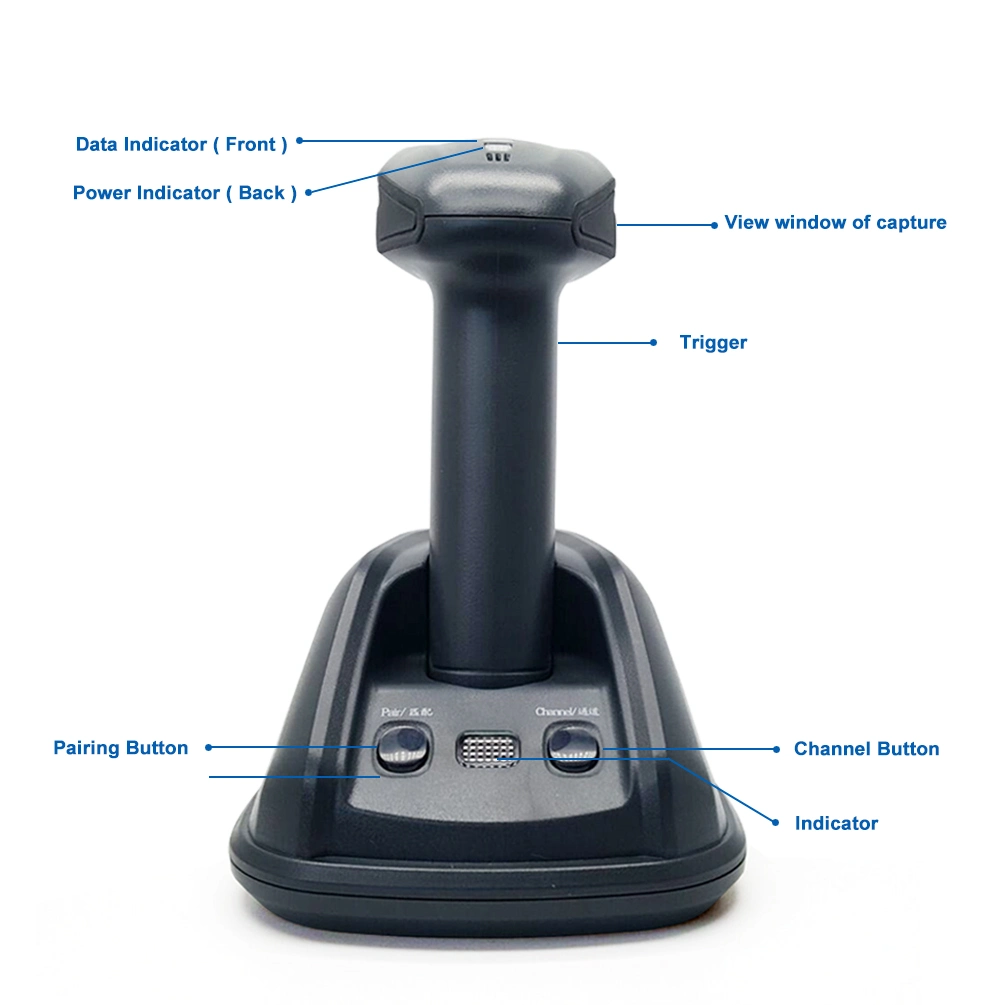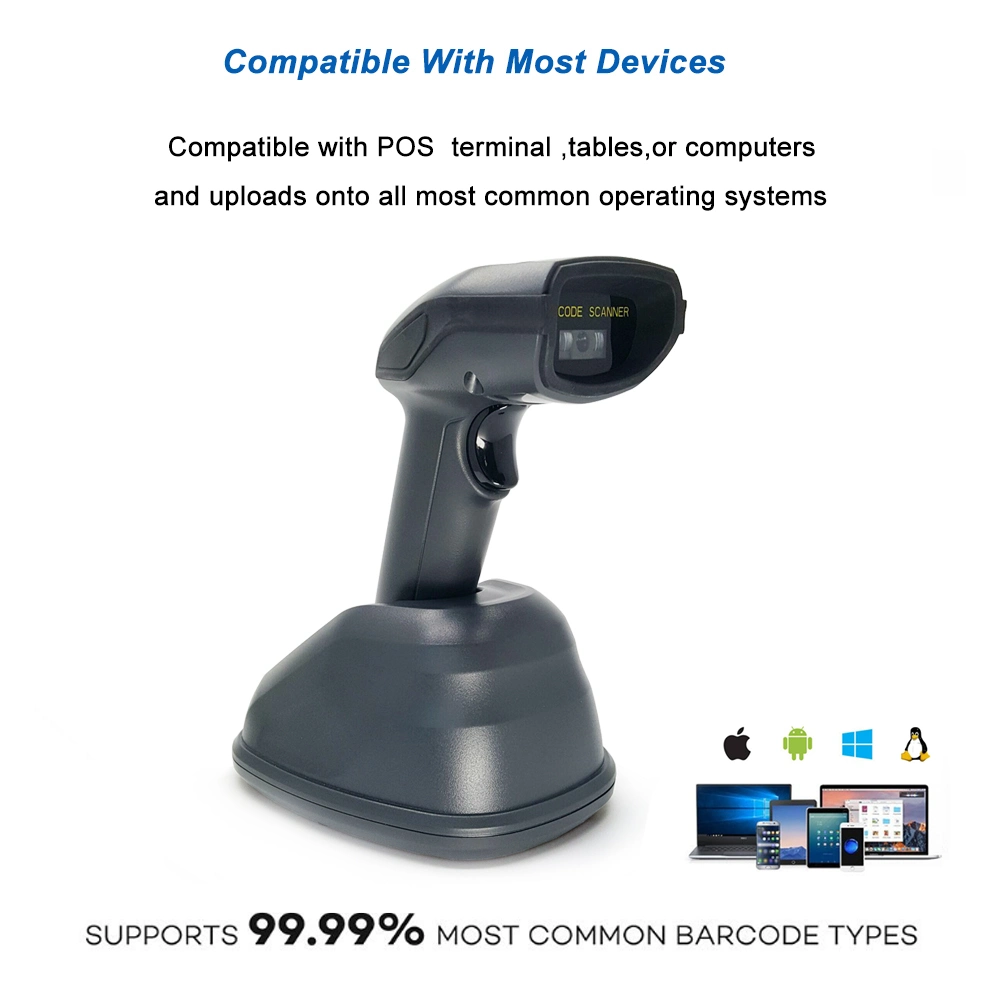 Detail specifications :
SGT-8300L long distance wireless bar code scanner with charging cradle

Model :

SGT-8300L wireless laser bar code scanner

Working frequency :

433MHz ISM frequency range

Light type :

650mm Nano visible laser red diode

Use :

Hand-held or bracket installation

Error rate :

1/50million

Interface :

RS 232, PS2KB, USB

Scanning mode :

Mannual and automatic

Transmission rate :

RS232 Baudrate : 2400-38400

Resolution (PSC0.9):

0.10mm (4mil)

Minimum Contrast:

30%

DOF:

15-600mm (PSC0.9)

Decoding Speed :

2800times/s.

Barcode Sensitivity:

Tilt ±65° Rotate ±42° Deflection ±60°

Data Interface Port:

RJ-45

Indicator:

Siren and LED light

Wireless Transmitting Distance
(without barrier)

300 - 400m

Angle of DIP :

45 degree

Max.Power :

520mw

Working Voltage :

DC5V

Current Max Current:

104ma

Working Current:

77ma

Stand-by Current:

56ma

Sleeping Current:

3ma

Charging Current

450ma

Storage Temperature:

-40°C ~ 60°C

Working Temperature :

0°C ~ 50°C

Relative Humidity:

0 ~ 95%

Height Range :

1.5m

IP Rating:

IP52

By light intensity :

Sunlight 4000lux max

EMI:

Accord en50081, PAR1

Dust and waterproof :

Accord icc529,IP42

The preventing electromagnetic interference:

Accord en50082,PAR1

Safety performance :

Accord with national level laser safety standards

Bar code type :

UPC/EAN/JAN,UPC/EAN with supplementals, UCC/EAN128,
Code39,MSI,Code11,Code39 Full ASCll, Code39 Trioptic,
Code128,Code128 Full ASCll Codabar,Code93,
Discrete 2 of 5 IATA,
RSSvanrians,Codabar,chinese 2 of 5, Interleaved 2/5,
Interleaved
2 of 5, International general dimensional barcodes.

Communication distance :

Empty place can reach 1200meters, indoor for 300meters,
Six floors of building barrier-free communication

Shape dimension :

7 x 5.5 x 4.5 inch

Material

ABS/PC

Weight :

320g(Excluding packaging )

Laser class :

class 1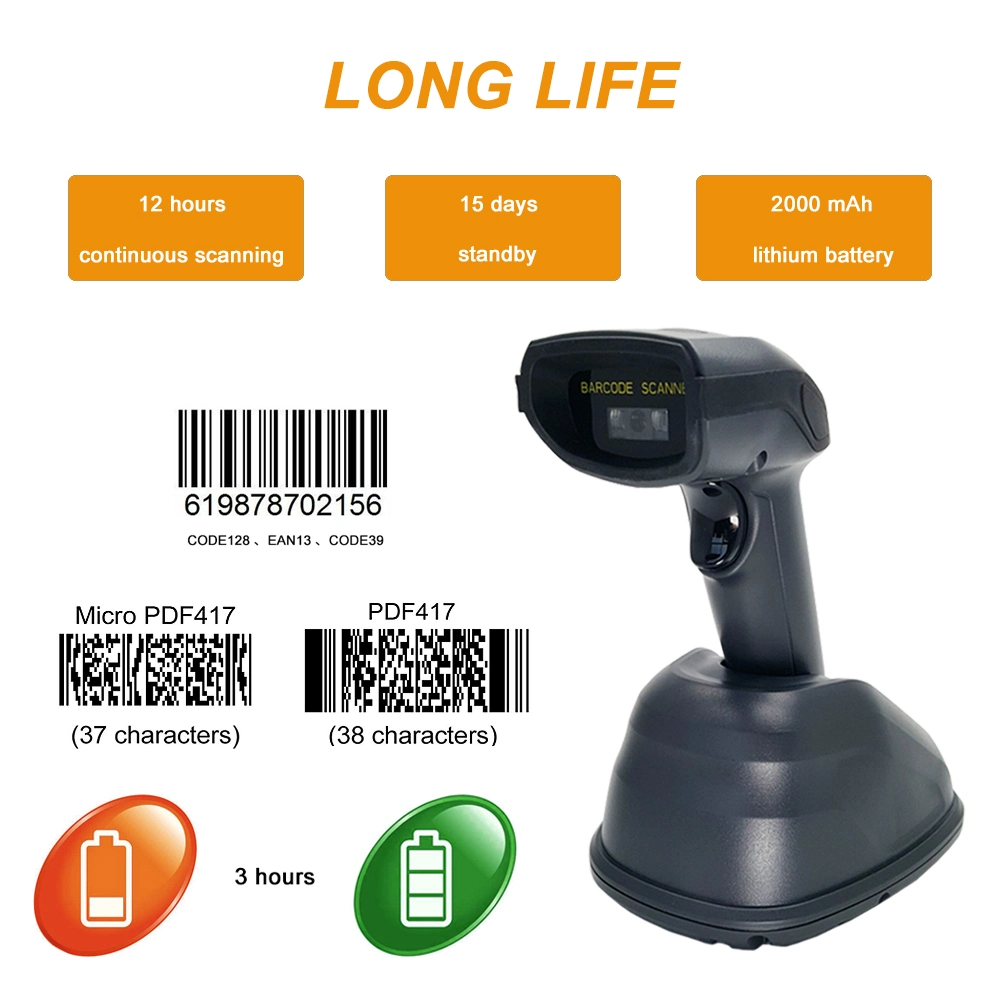 New function : When you put scanner on stand , Scanner will charge power automatically
Packaging including :
1 x 433Mhz Wireless Barcode Scanner
1 x Charging Cradle
1 x USB Data Cable
1 x User Manual
Delivery & Payment :
| | |
| --- | --- |
| Delivery time | Sample order within 1 day, cargo order within 1-3 working days after payment received |
| Delivery mode | By DHL/UPS/TNT/FedEx, by air /by sea |
| Payment | T/T, western union, paypal, moneygram, L/C at your convenience |
About Scangle
Shenzhen Scangle Technology company Ltd is mainly specialized in development & manufacturer of POS
Input & output system hardware products, including: All in one touch POS system, touch POS computer, touch POS terminal, POS machine,
Cash register, touch monitor, cash drawer, POS printer, barcode /lable printer, POS thermal receipt printer, portable bluetooth printer,
DOT matrix printer, kitchen receipt printer, Barcode scanner, barcode reader, customer display, magnetic card reader, etc.
POS terminal products We are manufacturer of thse products with very competitive price to you and support you on best after-sale service.
OEM & ODM service are available, customer label is available, we just even can go with your specific requirement.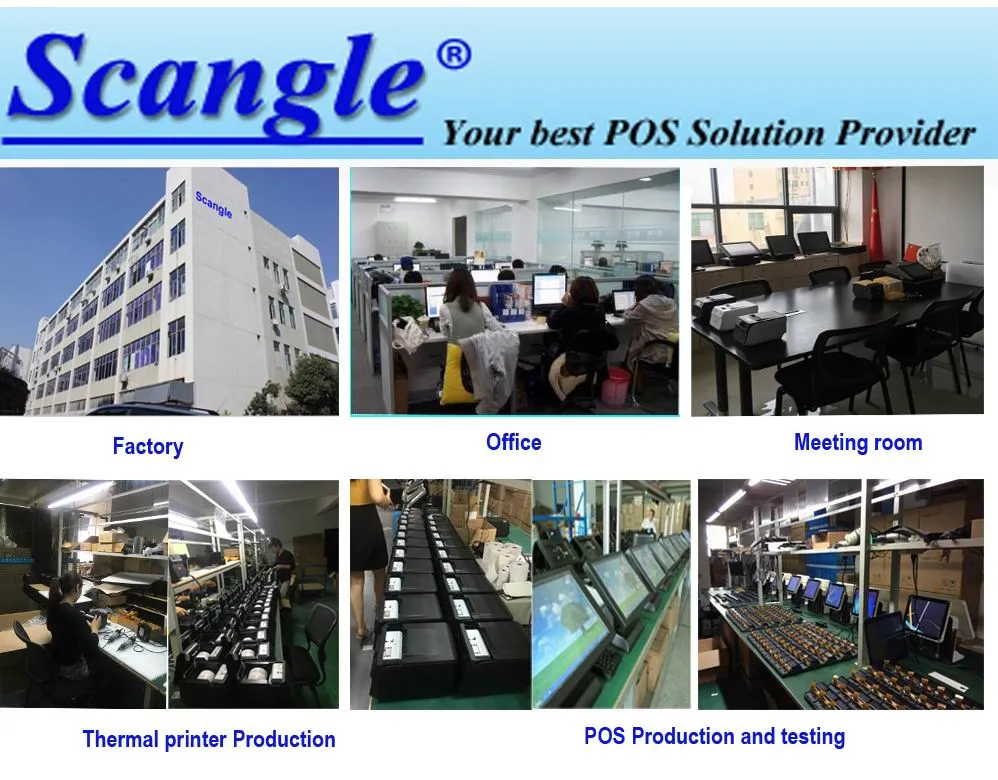 Contact us here:
Address:
Room308, BuildingA, Shenli Industrial Park, Qinghua Road,
Longhua District, ShenZhen, 518109, China
Tel:

86 755 23113053

Fax:

86 755 29485274

Mobile

86 18617088697

Web:

www. scangle. com, scangle.en.made-in-china.com