Reusible HF paper RFID tag or UHF PVC RFID tag for jewellry ID tracking management
A jewelry store's inventory often includes many small, high-value items that can prove to be an inventory management challenge. A loss of even a few pieces each quarter could mean thousands of dollars in shrinkage affecting the bottom line. Many jewelry retailers conduct time consuming manual inventory counts each quarter. These labor-intensive processes are expensive, they leave room for human error and their infrequency can delay the replenishment of goods, resulting in lost sales.
More and more l jewelry retailers have turned to automated inventory systems that integrate RFID technology to conduct faster and more frequent inventory counts. These companies are benefiting from drastic reductions in labor costs and shrinkage that can result in a fast recuperation of the costs from the initial system deployment. While improved inventory management may be what draws a jeweler to RFID, there are many additional benefits to automated inventory systems that can be leveraged to improve the sales process or offer additional services to customers.
Advantage of using NFC RFID tag or UHF PVC Jewellery tag
1. RFID Streamlines Inventory Processes
2. Retailer Uses RFID to Improve the Buying Experience
3. RFID Maintains Slim Inventory and Simplifies Bridal Registries
Product Specification
Item
RFID NFC paper tag
Chip
HF
Aavailable Sizes
60*15MM(unfold)/ 30*15MM(fold) with tail length of 60mm, 12x90mm, 15x120mm
Protocol
ISO14443A
Frequency
13.56mhz
Material
Paper/ PP/ PET
Antenna Material
Aluminum etching
Guarantee Period
1 Year
Functionality
Read and Write
Operation Termp
(-25ºC) ~ (+65ºC)
Reading Range
0-3cm or others
Remark
As the special design, the jewellery tag is NOT prevent tore
Application
jewelry management( price , counting, inventory )
Custom logo Jewelry Tag Introduction:
This Jewelry adhesive label is complaint with EPC C1G2 (ISO18000-6C) standard, operating frequency is 860~960MHz (It can be used worldwide). Each tag has a unique ID and stores user data.
The Jewelry adhesive label is designed for use in jewelry and small items applications where the tag may be in close proximity to small metal or metallic coated objects.

Application
Jewelry Security management,
Glasses Control Tracking,
Bag Tracking management, etc.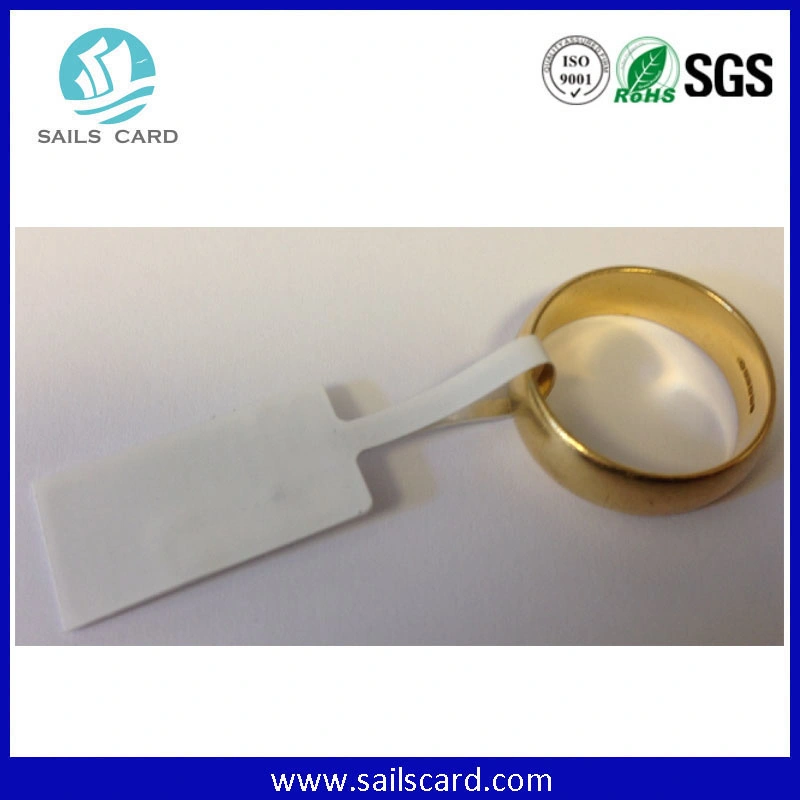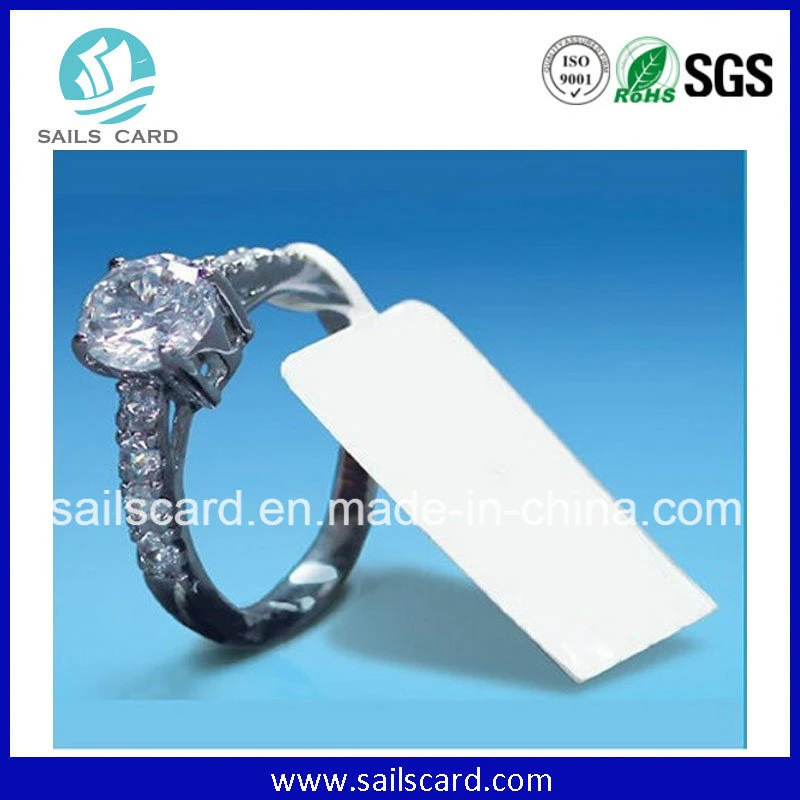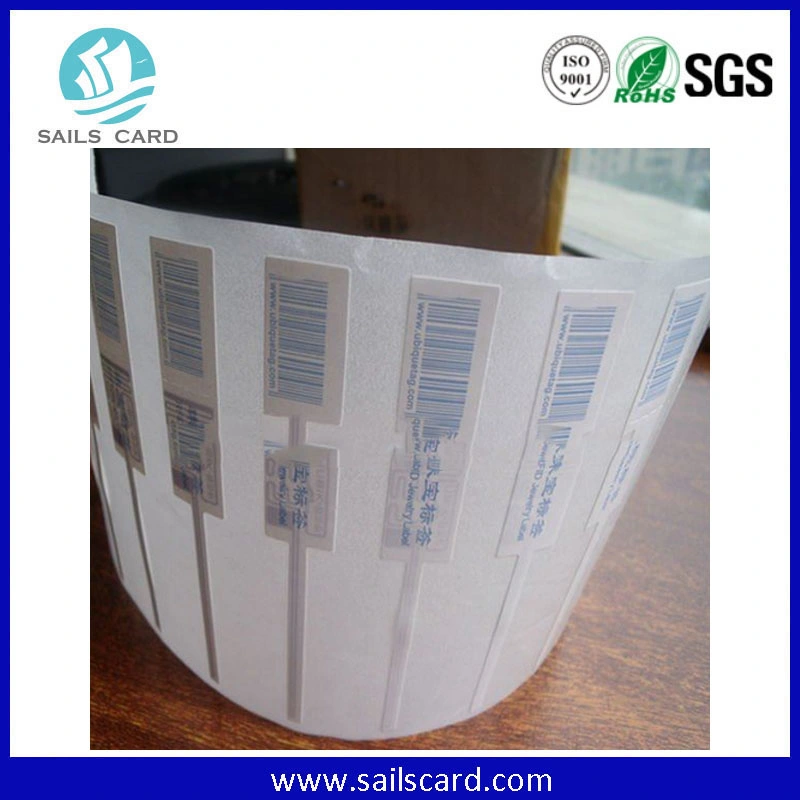 Specification of UHF RFID Jewelry PVC tag:
| | |
| --- | --- |
| Product name | Custom logo Alien H3 RFID Jewelry Tag |
| Application | Jewelry Management |
| Frequency | 860~960 MHz or 13.56mhz |
| UHF Chip | Higgs-3, Higgs-4, Monza 4E, Monza 4QT,Monza 5, etc |
| HF Chip | S50,S70,Ultralight),Ntag213/215/216 |
| Standard | ISO18000-6C or ISO14443A |
| Material | Coated paper ,PET or PVC |
| Size | 98*12mm, 120mm*15mm, 30*15mm or Customized |
| Customization | Printing,Encoding,Barcode,Designing,etc |
| Installation | Adhesive |
| Working temperature | -40ºC-85ºC |
| Storage temperature | 50ºC-125ºC |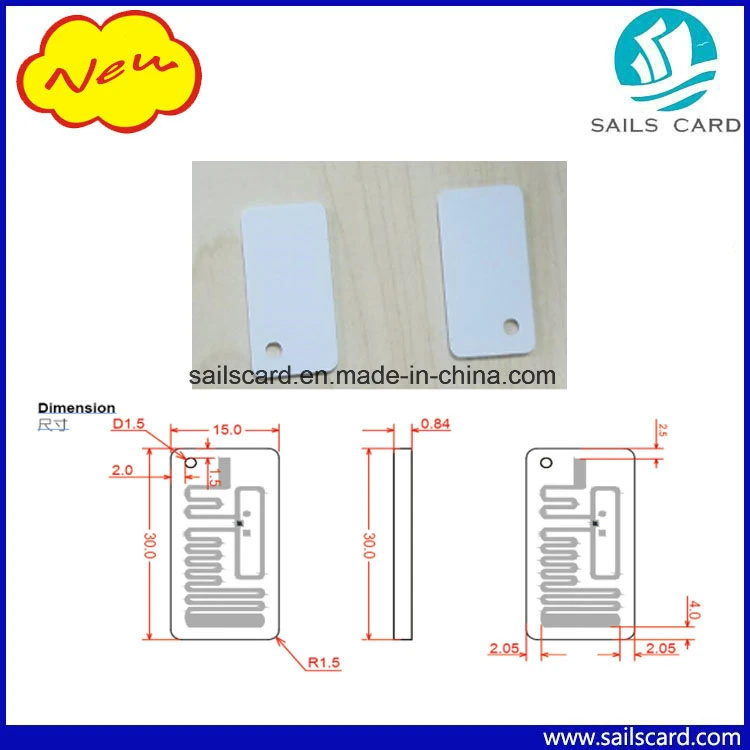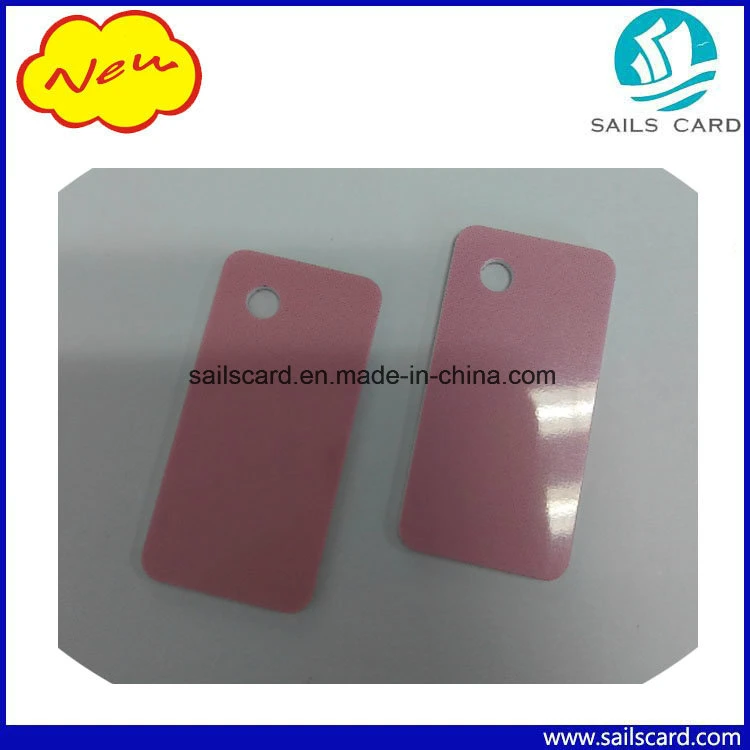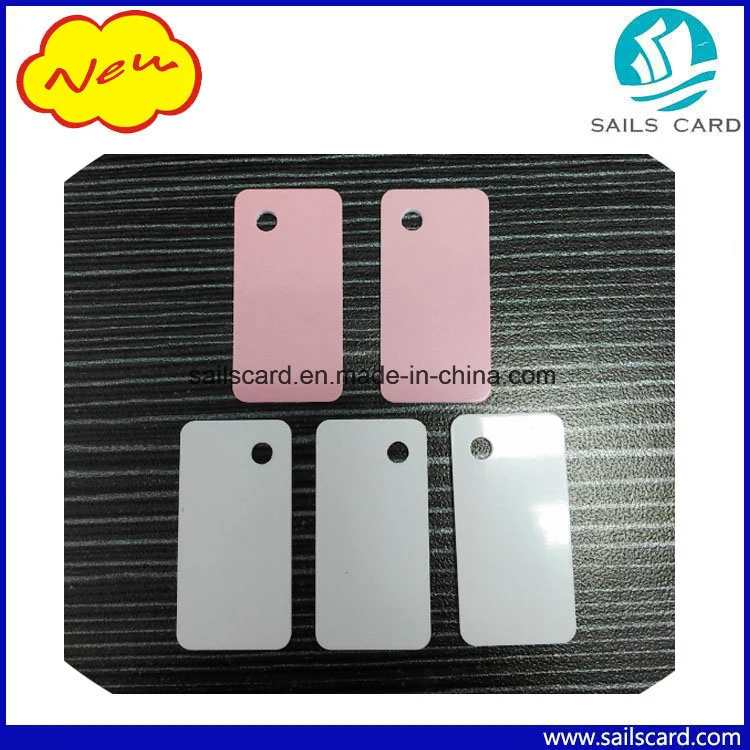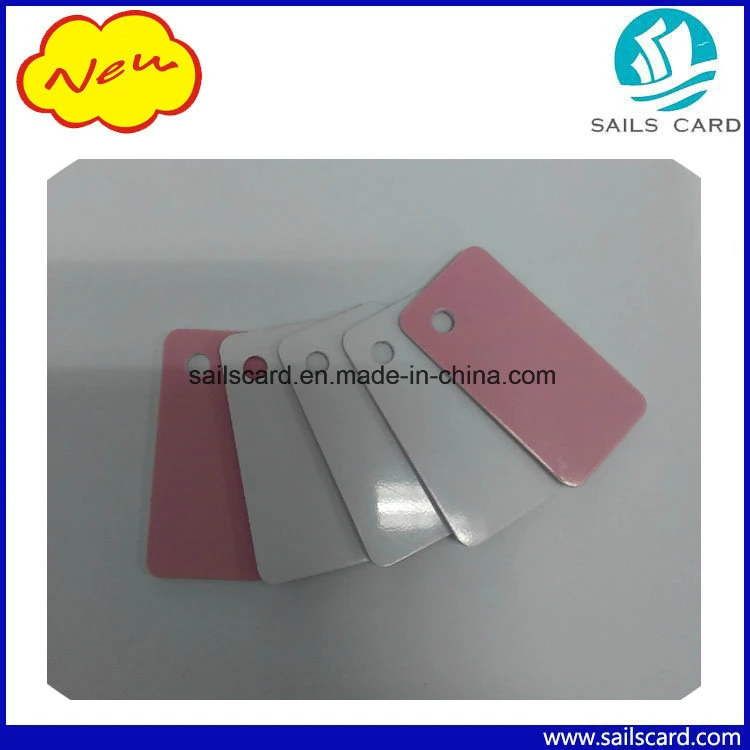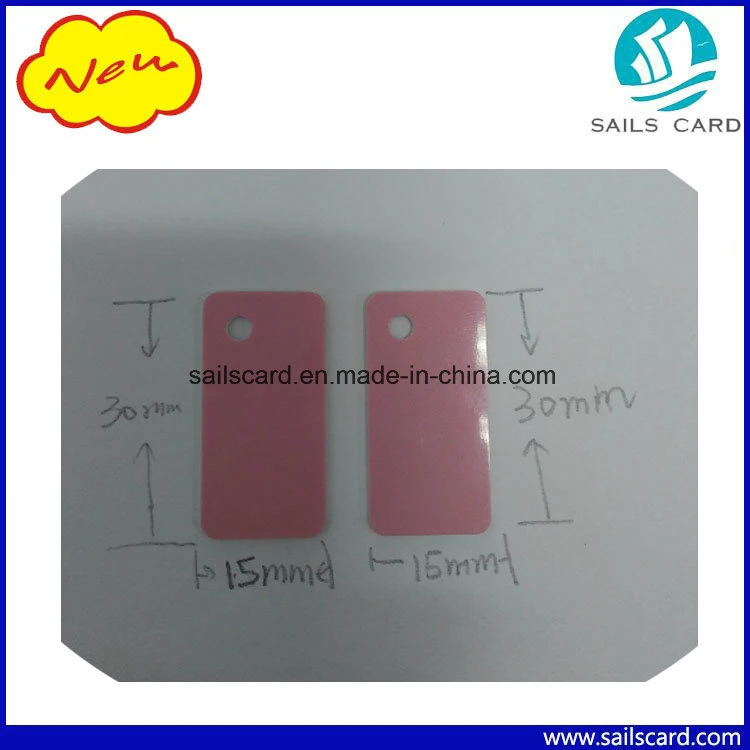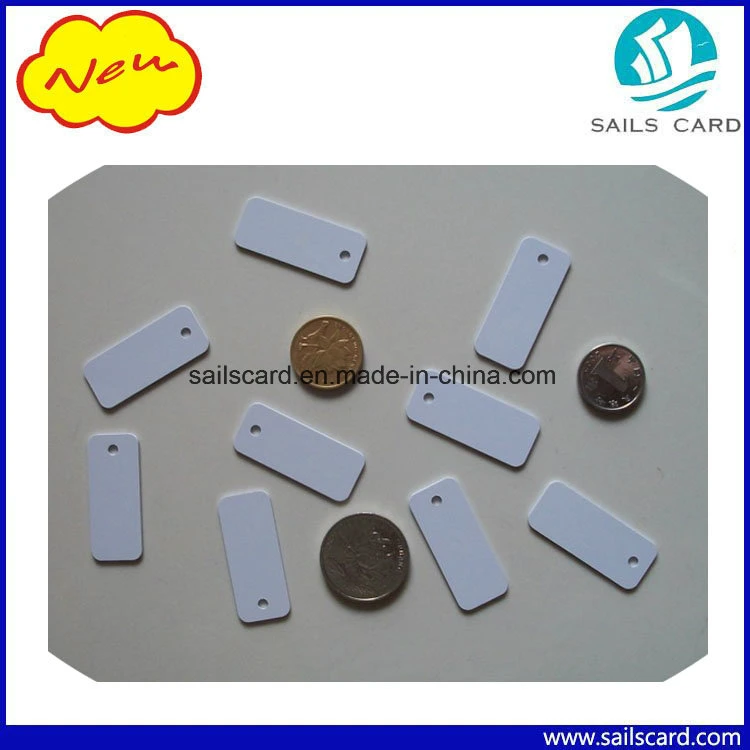 Quality control.
QC:
Every single tag will be checked carefully by machine or manual work before dispatched.
Speciality:
Outstanding quality that has been certified in accordance with CE FCC and RoHS certificates.
Package: By piece or roll.
Delivery Method: DHL, FEDEX, TNT, Express. By Air, By sea.
Related RFID Jewelry tag product
1.RFID Tags(RFID labels/stickers) 13.NFC Anti-metal Label
2.RFID Anti-metal Tag 14.NFC Epoxy Tag
3.RFID Library Label 15.NFC Smart Card
4.RFID Clothing Tag 16.RFID/NFC Wristbands
5.RFID Jewelry Label 17.RFID Pigeon Ring Tag
6.RFID Logistics Label 18.RFID Animal Ear Tag
7.RFID Windshield Label 19.RFID Laundry Tag
8.RFID Keyfob 20.RFID Coin Tag
9.RFID Patrol Button 21.RFID Nail Tag
10.RFID Fragile Anti-counterfeiting Label 22.RFID Inlays
11.NFC Label 23.Readers and Writers
12.NFC Poster 24. RFID Sealing tag


Sails Card company Introduce.
With experienced team of industry experts, Sails Card has stood for a wide range of high-quality products from
plastic cards to RFID and NFC tags. We focus on different needs from different industries,
our goal for every single project is to meet client's satisfactions of 100%.

Sails RFID Smart Card technology Co.,Ltd.
Baojinhua Building, Huaqiao Village,Xixiang Street, Bao'an District, Shenzhen, China
Tele: (0086) 0755 2721 7090
Web: sailscard.en.made-in-china.com

Your inquiry is welcome!