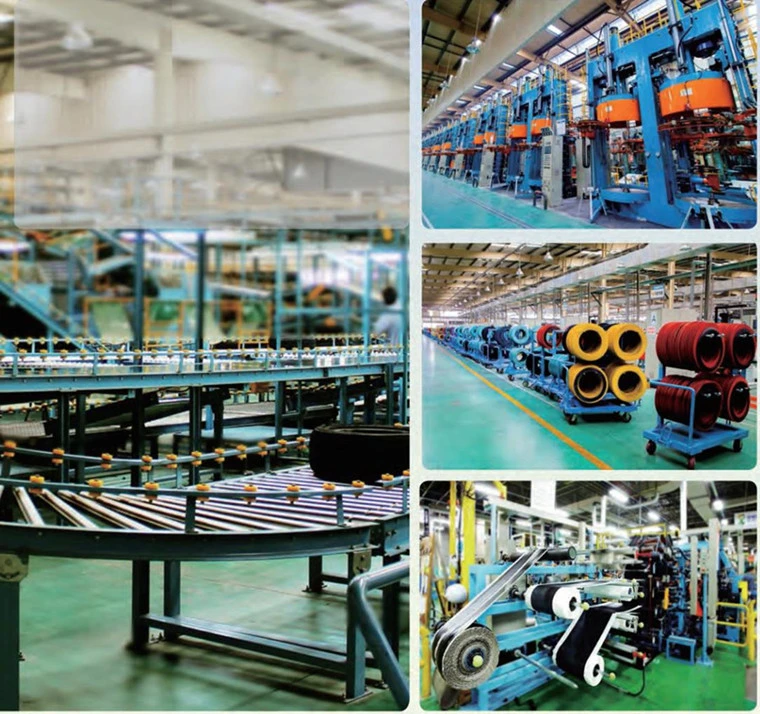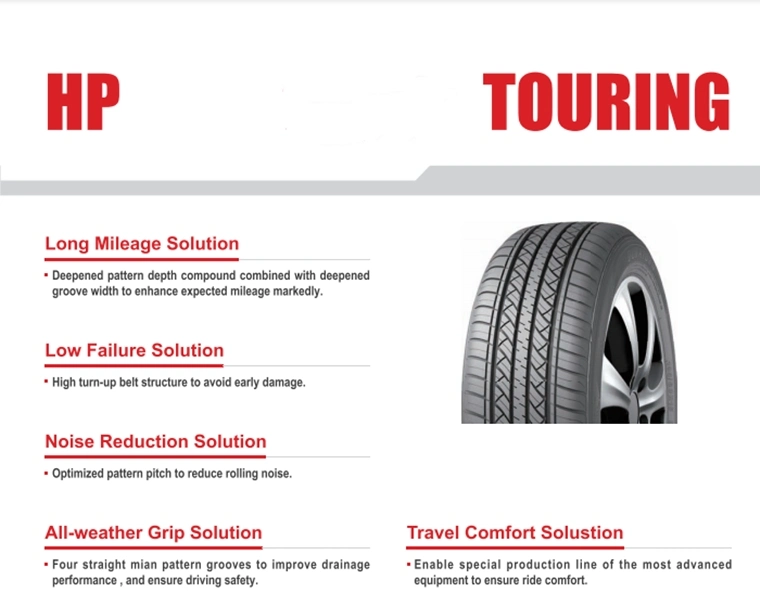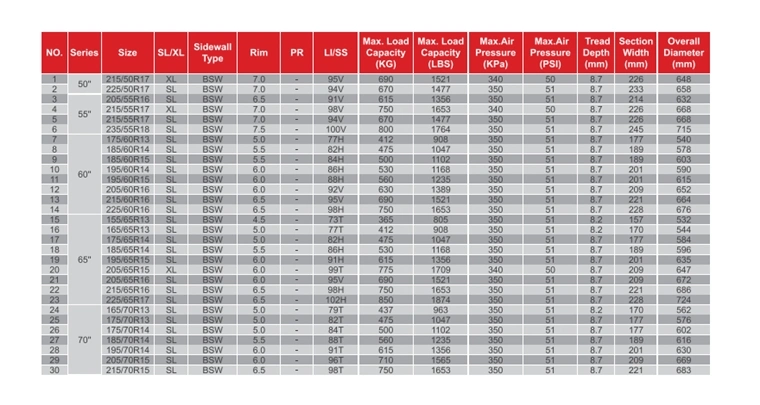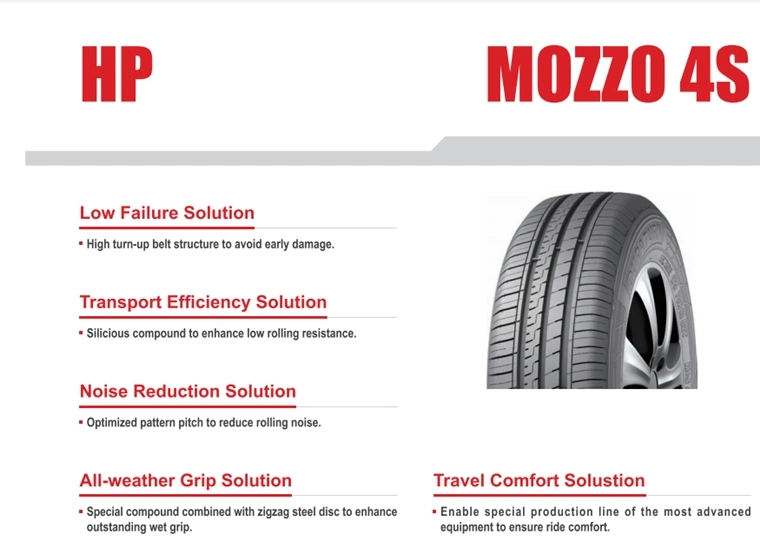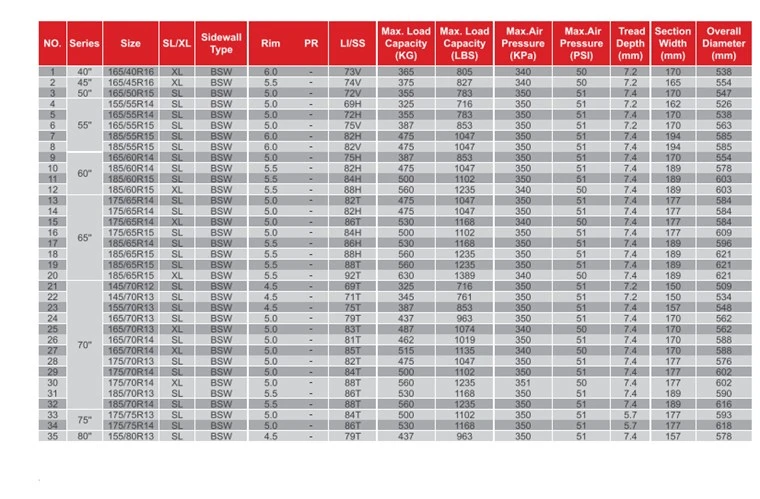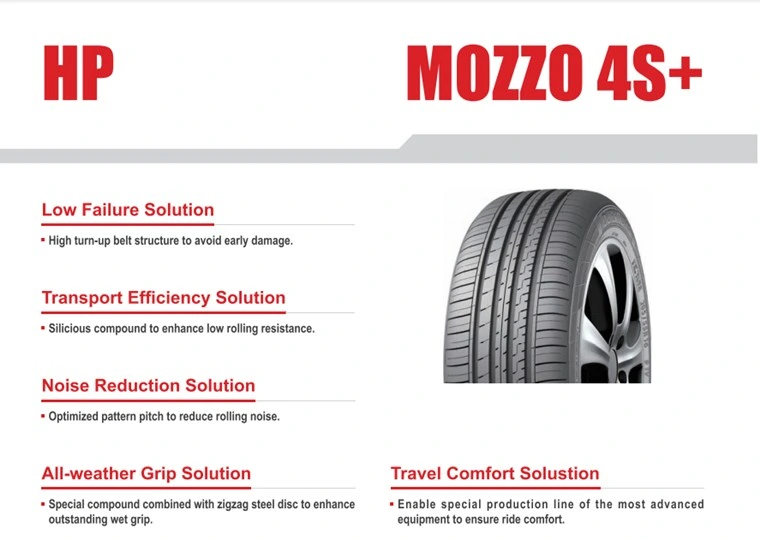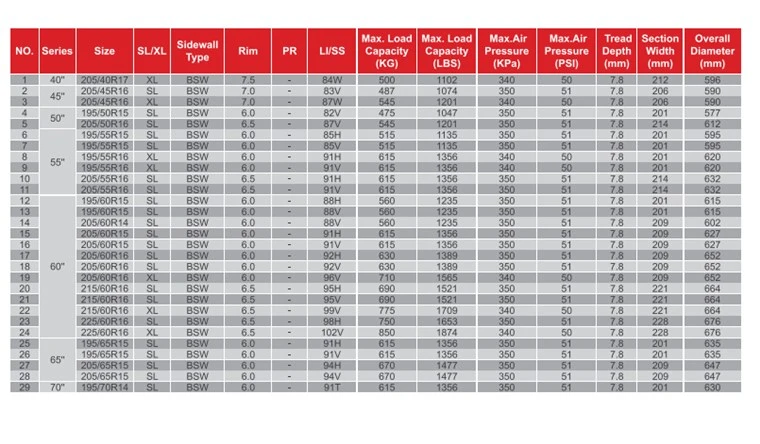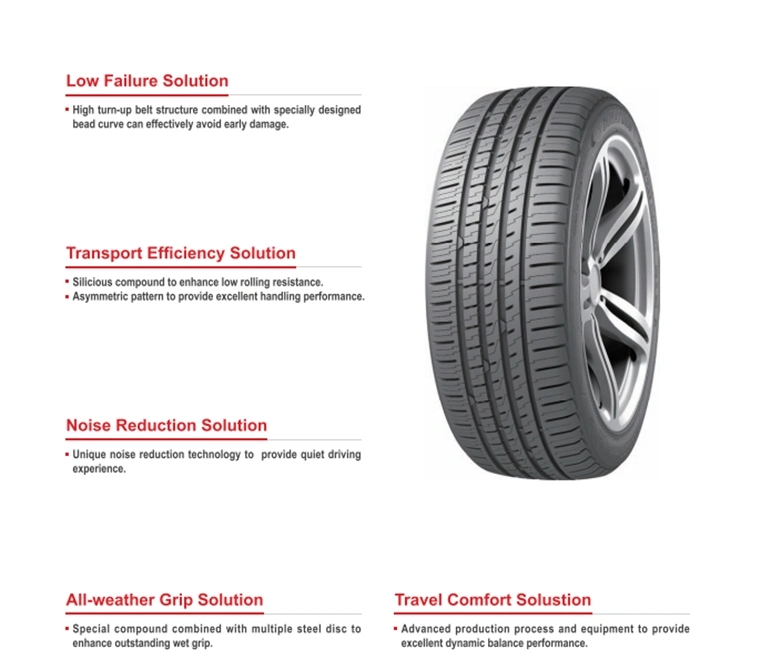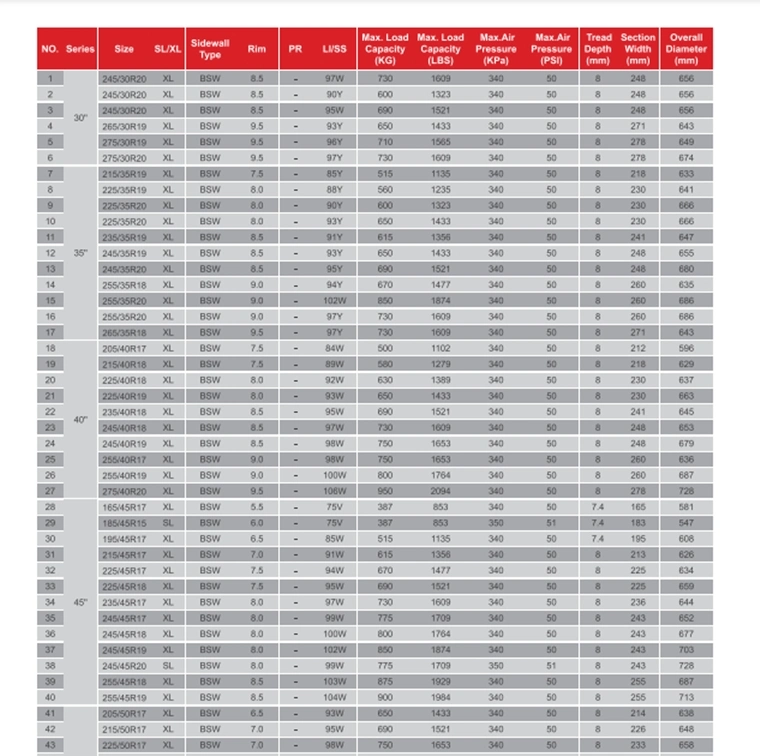 Serial

TireSize

Load Index

SR

40HQ

Order

Serial

TireSize

Load Index

SR

40HQ

Order

HP

165/65R13

77

T

1900

UHP

215/50R17

95

W

900

HP

165/70R13

79

T

1900

UHP

235/50R17

100

W

760

HP

175/65R14

82

H

1720

UHP

245/30R20

90

Y

800

HP

175/70R13

82

T

1840

UHP

245/30R20

95

W

800

HP

175/70R14

84

T

1680

UHP

245/45R19

102

W

750

HP

185/60R14

82

H

1490

UHP

275/30R20

97

Y

650

HP

185/60R15

84

H

1480

UHP

235/60R16

104

W

900

HP

185/65R14

86

H

1480

UHP

235/60R18

107

W

710

HP

185/70R14

88

T

1450

SPORT TRUCK

225/60R17

103

V

800

HP

195/60R14

86

H

1380

SPORT TRUCK

225/65R17

106

V

800

HP

195/60R15

88

H

1250

SPORT TRUCK

245/30R22

92

W

730

HP

195/65R15

91

H

1200

SPORT TRUCK

245/40R20

99

W

780

HP

195/70R14

91

T

1290

SPORT TRUCK

255/30R24

97

W

600

HP

205/55R16

91

V

1050

SPORT TRUCK

265/40R22

106

V

560

HP

205/60R16

92

V

1050

SPORT TRUCK

265/50R20

111

V

560

HP

205/65R15

99

T

1100

SPORT TRUCK

275/40R20

106

V

580

HP

205/65R16

95

V

1000

SPORT TRUCK

275/40R20

106

W

580

HP

205/70R15

96

T

1050

SPORT TRUCK

275/45R20

110

V

570

HP

215/50R17

95

V

900

SPORT TRUCK

275/45R20

110

W

570

HP

215/55R17

94

V

900

SPORT TRUCK

275/55R20

117

V

460

HP

215/60R16

95

V

950

SPORT TRUCK

275/60R20

115

V

410

HP

215/65R16

98

H

950

SPORT TRUCK

285/45R22

114

V

440

HP

215/70R15

98

T

1000

SPORT TRUCK

285/50R20

116

V

500

HP

225/50R17

94

V

850

SPORT TRUCK

295/30R26

107

W

350

HP

225/60R16

98

H

900

SPORT TRUCK

295/35R24

110

V

480

HP

225/65R17

102

H

850

SPORT TRUCK

305/30R26

109

V

300

HP

235/55R18

100

V

720

SPORT TRUCK

305/35R24

112

V

450

HP

155/65R13

73

T

2050

SPORT TRUCK

305/40R22

114

V

440

HP

175/60R13

77

H

1800

SPORT TRUCK

305/45R22

118

V

400

HP

145/70R12

69

T

2600

H/T

215/70R16

100

H

850

HP

155/55R14

69

H

2300

H/T

225/70R16

103

T

800

HP

165/40R16

70

V

2100

H/T

235/70R16

106

T

750

HP

165/40R16

73

V

2100

H/T

245/70R16

107

T

700

HP

165/45R16

74

V

2000

H/T

235/65R17

104

T

780

HP

165/50R15

72

V

2100

H/T

235/75R15

109

T

750

HP

165/50R15

72

H

2100

H/T

245/65R17

107

T

700

HP

165/55R14

72

H

2200

H/T

265/70R16

112

T

650

HP

165/55R15

75

V

2000

H/T

265/70R17

115

T

550

HP

165/55R15

75

H

2000

H/T

265/75R16

116

T

610

HP

165/60R14

75

H

1900

H/T

LT215/75R15

106/103

R

900

HP

165/70R13

79

T

1900

H/T

LT225/75R16

115/112

R

700

HP

165/70R14

81

T

1750

H/T

LT235/80R17

120/117

R

600

HP

165/70R14

85

T

1750

H/T

LT235/85R16

120/116

R

640

HP

175/65R14

82

H

1720

H/T

LT245/75R16

120/116

R

650

HP

175/65R14

82

T

1720

H/T

LT245/75R17

121/118

R

600

HP

175/65R15

84

H

1500

H/T

LT265/70R17

121/118

R

550

HP

175/70R13

82

T

1840

H/T

LT265/75R16

123/120

R

600

HP

175/70R14

84

T

1680

H/T

LT285/70R17

121/118

S

500

HP

185/55R15

82

V

1450

H/T

31*10.50R15LT

109

R

600

HP

185/55R15

82

H

1450

H/T

215/55R18

95

H

850

HP

185/60R14

82

H

1490

H/T

215/55R18

99

V

850

HP

185/60R15

84

H

1480

H/T

215/60R17

96

H

900

HP

185/65R14

86

T

1480

H/T

235/60R18

103

H

720

HP

185/65R14

86

H

1480

H/T

265/65R17

112

H

600

HP

185/65R14

90

S

1480

H/T

LT235/75R15

116/113

S

750

HP

185/65R15

88

T

1380

AT

215/70R16

100

H

850

HP

185/65R15

88

H

1380

AT

215/75R15

100

T

900

HP

185/70R13

86

T

1600

AT

225/70R16

103

T

800

HP

185/70R14

88

T

1450

AT

235/70R16

106

T

750

HP

195/50R15

82

V

1350

AT

235/75R15

109

T

750

HP

195/55R15

85

H

1350

AT

265/75R16

116

T

610

HP

195/55R15

85

V

1350

AT

LT235/75R15

116/113

S

750

HP

195/55R16

91

H

1280

AT

LT285/70R17

121/118

S

500

HP

195/55R16

91

V

1280

AT

235/65R17

104

T

780

HP

195/60R15

88

V

1250

AT

245/65R17

107

T

700

HP

195/60R15

88

H

1250

AT

245/70R16

107

T

700

HP

195/65R15

91

V

1200

AT

265/65R17

112

H

600

HP

195/65R15

91

H

1200

AT

265/70R16

112

T

650

HP

195/70R14

91

T

1290

AT

265/70R17

115

T

550

HP

205/40R17

84

W

1200

AT

LT225/75R16

115/112

R

700

HP

205/45R16

83

V

1190

AT

LT235/80R17

120/117

R

600

HP

205/45R16

87

W

1190

AT

LT235/85R16

120/116

R

640

HP

205/50R16

87

V

1150

AT

LT245/75R16

120/116

R

650

HP

205/55R16

91

V

1050

AT

LT245/75R17

121/118

R

600

HP

205/55R16

91

H

1080

AT

LT265/70R17

121/118

R

550

HP

205/60R14

88

V

1250

AT

LT265/75R16

123/120

R

600

HP

205/60R15

91

H

1180

AT

LT285/75R16

126/123

R

500

HP

205/60R15

91

V

1180

AT

31*10.50R15LT

109

R

600

HP

205/60R16

92

H

1050

MT

LT265/75R16

123/120

Q

600

HP

205/60R16

92

V

1050

MT

LT245/75R16

120/116

Q

650

HP

205/65R15

94

V

1120

MT

LT285/75R16

126/123

Q

454

HP

205/65R15

94

H

1120

MT

LT265/70R17

121/118

Q

535

HP

215/60R16

95

V

950

MT

LT285/70R17

121/118

Q

500

HP

215/60R16

99

V

950

MT

31*10.50R15LT

109

Q

600

HP

225/60R16

98

H

900

MT

33X12.50R18LT

118

Q

550

HP

225/60R16

102

V

900

MT

33X12.50R20LT

114

Q

390

UHP

205/40R17

84

W

1200

MT

35X12.50R20LT

121

Q

360

UHP

205/50R17

93

W

1100

LTC

155R12C

88/86

Q

2200

UHP

205/55R16

91

W

1080

LTC

155R13C

85/83

Q

2000

UHP

215/35R19

85

Y

900

LTC

165R13C

91/89

Q

1850

UHP

215/40R18

89

W

1000

LTC

185R14C

102/100

Q

1270

UHP

215/45R17

91

W

1080

LTC

195R14C

106/104

Q

1200

UHP

215/55R16

97

W

950

LTC

195R15C

106/104

Q

1150

UHP

225/35R19

88

Y

870

LTC

205R14C

109/107

Q

1150

UHP

225/35R20

90

Y

870

LTC

205R16C

110/108

R

1000

UHP

225/35R20

93

Y

870

LTC

165/70R13C

88/86

R

1840

UHP

225/40R18

92

W

930

LTC

165/70R14C

89/87

R

1750

UHP

225/45R17

94

W

970

LTC

175/70R14C

95/93

R

1650

UHP

225/45R18

95

W

880

LTC

185/75R16C

104/102

R

1200

UHP

225/50R17

98

W

850

LTC

195/70R15C

104/102

R

1150

UHP

225/55R16

99

W

960

LTC

195/75R16C

107/105

R

960

UHP

225/55R17

101

W

810

LTC

205/65R16C

107/105

T

1000

UHP

235/35R19

91

Y

850

LTC

205/70R15C

106/104

R

1050

UHP

235/40R18

95

W

880

LTC

205/75R16C

110/108

R

1000

UHP

235/45R17

97

W

880

LTC

215/60R16C

103/101

T

950

UHP

235/50R18

101

W

750

LTC

215/65R16C

109/107

R

950

UHP

235/55R17

103

W

740

LTC

215/70R15C

109/107

R

960

UHP

245/35R19

93

Y

820

LTC

215/75R16C

113/111

R

900

UHP

245/35R20

95

Y

780

LTC

225/65R16C

112/110

R

920

UHP

245/40R18

97

W

820

LTC

225/70R15C

112/110

R

850

UHP

245/40R19

98

W

800

LTC

235/65R16C

115/113

R

820

UHP

245/45R17

99

W

820

LTC

185R14C

102/100

Q

1270

UHP

245/45R18

100

W

800

LTC

185R15C

103/102

Q

1200

UHP

245/45R20

99

W

700

LTC

195R14C

106/104

Q

1200

UHP

245/50R18

104

W

750

LTC

195R15C

106/104

Q

1150

UHP

255/35R18

94

Y

750

LTC

205/75R14C

109/107

R

1200

UHP

255/35R20

97

Y

750

LT

7.00R16LT

115/110

N

730

UHP

255/40R17

98

W

820

LT

215/70R17.5

118/116

L

UHP

255/40R19

100

W

780

LT

7.50R16LT

122/118

N

UHP

255/45R18

103

W

700

LT

6.50R16LT

107/102

N

UHP

255/45R19

104

W

750

HP

215/55R17

94

V

UHP

255/50R19

107

W

720

HP

225/55R18

98

V

UHP

255/55R18

109

W

670

HP

225/60R18

100

H

UHP

265/30R19

93

Y

800

HP

225/65R17

102

H

UHP

265/35R18

97

Y

700

UHP

235/40R18

95

W

UHP

275/30R19

96

Y

700

UHP

255/55R18

109

W

UHP

275/40R20

106

W

580

UHP

265/35R18

97

Y
Why choose us
Our Advantages
1. Guaranteed quality: 80000kms, 3 years
2. All materials are best (Natural rubber from Malaysia; Carbon black are from CABOT,USA; And steel cord are from BEKAERT,BELGIUM). Share Technology with Yokohama to ensure tire performance outstanding.
3. Our certificates: CCC, ECE, DOT, GSO/GCC, SONCAP, ISO, INMETRO, NOM
4. Reliable packing & Fast delivery

Standard Export Package: Car tires with no package or plastic package as per customer's requirement
5~10 days for goods in stock; 15~20 days for producing after receiving your deposit
5. Product line includes PCR, UHP, LTR, A/T,M/T. 12"-26", etc.
6. The best pre-sales and after-service to ensure our every customers get what you want and keep a long-term cooperation relation ship with us.